If you've had any interest in motorsports you've probably heard the name Skip Barber. The now 75 year old retired racer started the Skip Barber Racing School in 1975 and began amassing a reputation for being one of the premier schools in the world. The alumni list is impressive with Formula One, IndyCar and ALMS drivers all crediting the Skip Barber programs as integral to, if not the start of, their racing careers.
So about a month ago I finally bit the bullet after years of saying I would sign up for a Skip Barber racing school. Excellence comes at a price and I always cited the intimidatingly high price as the reason for my procrastination. The irony is that I've absolutely spent the same amount, if not more, each year on High Performance Driver Educations (HPDE). But the all in one shot price was intimidating.
I doubt it needs to be said but... it was worth it. Join me on a breakdown of my experience, as an HPDE veteran, at one of the best racing schools on the planet...
Step 1: Getting Past the Price
With mild whimpering and a healthy amount of apologizing to my credit card, I signed myself up for a 2-day Advanced Racing school at Lime Rock Park in early July. I was lucky enough to place out of the more costly 3-day school where most first-time Skip Barber students find themselves. I figured I at least knew the basics well enough to hold my own at the next level and after looking at previous experience the chief instructor agreed. Conveniently, everything was handled by a liaison of sorts who was really just a very proactive customer service representative with whom you dealt with exclusively. Nice touch, actually.
Step 2: Fun vs. Function
I chose to enroll in the MAZDASPEED variety over the Formula offering and I did experience a bit of buyer's remorse. Why would I opt for the Miata over sequential gearbox equipped Formula cars that can hit 60 in 4.5 seconds? You can believe the commercials, the Miata is an icon and they are indeed the most raced vehicle on any given weekend in the United States. But piloting a Formula car -- banging through the sequential gears watching the tires roll over apexes -- would be filled with countless euphoric moments! Why did I go with the tic tac?
Well, I had a mission to accomplish when I registered. I wasn't doing this for the thrill or the novelty; the thrill is easily obtained at HPDEs and the pure novelty has mostly worn off for me. My mission was to get myself an SCCA license and I figured I should be in as familiar of a setting as possible. In other words, I went for the vehicle with bodywork around the wheels, extra weight (comparatively), and three pedals to play with.
Step 3: Just Show Up
I didn't need to tech my car. I didn't need to worry about brake pads, tires or other wear items. I didn't need to do anything but show up with a smile and comfortable shoes. Strange, really. The first day started with some familiar chalktalk about vehicle dynamics and soon we found ourselves heading over to a small autocross course for some drills. These exercises allowed us to quickly acclimate to the plucky little Mazdas. One exercise was particularly enlightening where they had us snap off the throttle at a small rise in the course and turn in. With the car unloaded and very light at turn-in, the car inevitably stepped out and, in some cases, quite dramatically. As we did this over and over, and speed got higher and higher, I quickly learned how easily these steroidal go-karts rotate. Crest. Lift. Turn. Weeee! Around I went. Repeatedly. But after a few more rounds, I had gained a good amount of confidence in my ability to catch the slide.
Step 4: Go Time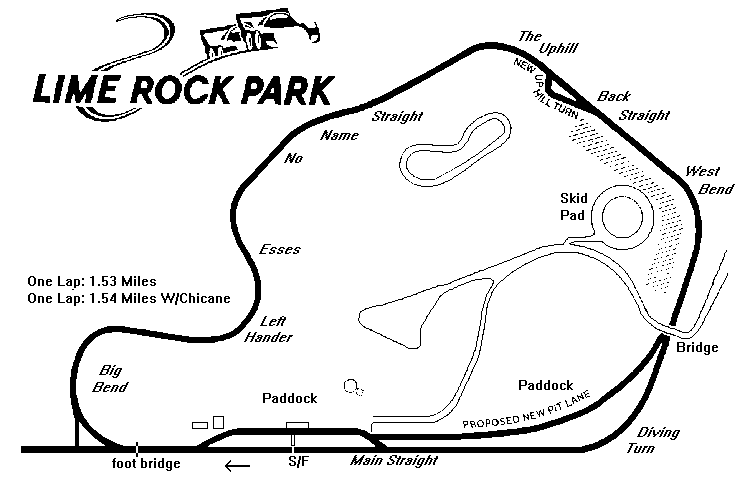 After lunch we received some more classroom counseling and then it was onto the hot pits at Lime Rock Park. I was slightly more nervous that usual but I benefited from the track time I had under my belt -- I knew how to clear my head and picture the turns -- but the new track and new car and new motivation (that license!) were all on my mind.
The first laps of a season always feel odd to me and going green at Lime Rock was no different. But these weren't the first laps of the season for me as I had already been to Watkins Glen in the Z4MC just the month before! But I soon reoriented my priorities for getting up to speed. In my car, safety then fun. In their car, fun then safety. This mental shift is appropriate when you're surrounded by a roll cage and when the maximum you're liable for is (a still totally scary) 6-large should you have a nasty shunt.
We started with a lead-follow routine and although this format was foreign to me it was an absolute blast. I wish they did this sort of thing at HPDEs for a few minutes in one of the morning sessions! Trying to follow the instructors in a new car on a new track was tough and these guys are good. Which is to be expected since it's literally their job to be excellent instructors! After the lead-follow, we were turned loose and told that the instructors would be watching from the various flagging stations. They set up a stop-box on the straight for us to pull into for commentary over the radio from the instructors. This was somewhat awkward as I couldn't find a rhythm without getting some consecutive laps in. And I'll admit I was at first resistant to their criticism...
You lifted. No I didn't. You turned in early. Nuh-uh. You missed an apex. Prove it!
Step 5: It All Sets In
The second day picked up where we left off but this time one of the instructors abandoned his flagging station post and got behind the wheel. His job was to mix things up. You know, mess with us. He'd follow way close, brake too early, drift around turns, pass on the inside, and pass on the outside. The hoontastic driving really forced me to increase my situational awareness!
There's a psychological explanation, I'm sure, but the second day is where things start to make sense. Perhaps I had dreams of Big Bend or The Downhill but on Day 2 I was on a roll. I hit my marks and gained a lot of speed. And the criticism suddenly seemed more constructive even if the content hadn't really changed. These instructors knew their stuff and their advice became addictive.
Did I lift? No. Did I turn-in early? A bit. Did I nail the apex? Sure did.
Step 6: Reflection
As with all track time, it was over before I even knew what hit me. But thankfully nothing hit me or, rather, I hit nothing. The can't be said for two fellow students who lifted in The Downhill and looped it into the wall. However, I was the only student who had to skip a session because the crest at the top of the The Uphill was making me impossibly nauseated! Lime Rock Park truly is a roller coaster -- a lap takes barely over a minute -- and I had to dial it back a few times so as to avoid ruining my beloved Arai helmet. Barfing in the helmet? Not cool.
So looking back at the experience I can say without reservation that it was tremendously educational and there is no question that it made me a better driver even though I have been doing HPDEs regularly for the past half-decade. The lack of mechanical grip in these MX-5's -- yes, they run semi-shaved all-season tires -- forces the student to be extremely active in correcting the car's trajectory. The simplicity of the MX-5's formula makes them a truly perfect educational tool and combined with the expertise of the Skip Barber instructors I can say that I very much recommend the experience.
10/4/2011 UPDATE
As if to prove my point that Skip Barber attracts the best, a young lad of only 15 years named Madison Snow was a fellow student that weekend and he just became the youngest driver to win a professional Porsche series championship. He was enrolled in the school to gain experience at Lime Rock Park in preparation for the IMSA GT3 Cup Challenge race being held the coming weekend in support of the ALMS race.
Read about it on Jalopnik here: http://jalopnik.com/5844051/youth-trumps-experience-at-the-porsche-imsa-gt3-cup-challenge-by-yokohama
But here's the funny part. Remember I mentioned two drivers performed involuntary body work when they collided with the wall after The Downhill? Well, one of those guys was Madison! This presents a a few more points of note: 1) At the professional level, you need to be willing to take big risks to get to the front of the pack. 2) Not having to worry about the cost of damage and the removal of that mental burden surely increases your speed. 3) Experience is everything. If you start racing karts before you're out of elementary school -- like Madison -- you're going to have an edge. Not an insurmountable one, but definitely an edge.